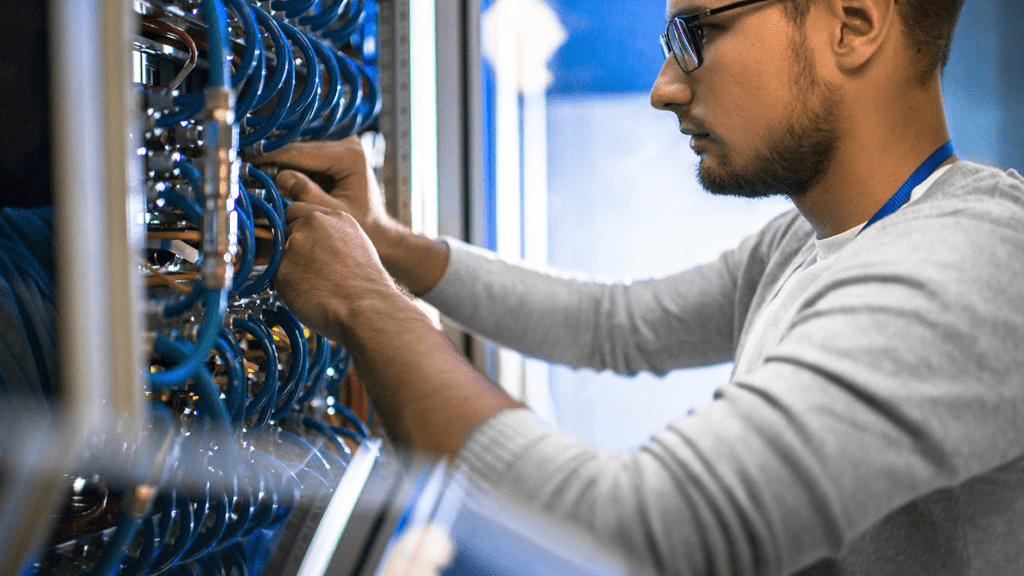 It can be all too compelling to go with a remote tech support team rather than on-site support, especially for a small-medium business. It's convenient, inexpensive, relatively easy to get in touch, and it kind of works. Technicians as well as service providers have been switching to a more hands-off model. However, for the business owner, there are many benefits that come from reserving a team of IT technicians for on-premises work.
As your company grows in size and takes on more technology, it can become difficult to keep everything running together smoothly. Also, as changes take place in the IT infrastructure over the years, proper documentation is key. Only a team who have hands-on experience with your gear can maintain proper notes and documentation of the work that takes place.
What Qualifies as On-Site Support?
Any time a technician leaves their company and sets foot on your premises, it is considered on-site support. These visits can either be preplanned in standard intervals, or whenever a situation arises. The visits, although they can be sporadic, should be guided by a service agreement.
Perhaps you would like the crew to come in every few months for checkups. Perhaps you only want them to come when a catastrophe arises. Or maybe, you would like a combination of those two. Whatever works best for your business, you can negotiate that with a managed services provider like Livelinx.
Main Benefits of On-Site Support
Although we are quickly heading into a more remote, online-based world, there are situations where a personal touch is required. Setting up and diagnosing hardware is but one of these situations. Realistically, there are many reasons you would want support to come to your business physically.
Every business now has some form of mission-critical hardware – ask yourself how much it would cost per hour for that hardware to go down? This leads us to the first reason to have on-site support – emergencies.
Faster Recovery from Catastrophe and Disaster
This is perhaps the number one reason to have dedicated support staff. When things go wrong, there's no time to be submitting written tickets, waiting for a response, only to receive a technician who doesn't even your name or much about your business.
We all want quick response times when things go wrong; on-site IT support will help deliver this. They can be physically at your location within the hour, depending on the driving distance.
Diagnosing systems in-person is a lot quicker, there are many more work-arounds and options we can take to resolve the situation. Also, the most prevalent method of support – screen sharing – doesn't always work during a time of catastrophe.
Not to mention, the majority of catastrophic IT issues are actually physical in nature. Remote support is of no use in these instances.
More Familiarity with Your Systems
Even a modestly sophisticated network quickly becomes a very complicated web of interconnected protocols and devices. When changes are made, it can ripple down in unpredictable ways, unless you have a deep knowledge of the network. This is another situation where onsite support is vastly superior.
There's no replacement for many days of working hands-on with your hardware, and the documentation which results from such work. During times of expansion or change, you can rest assured that your technicians know how to keep everything happily humming along. They will be able to find suitable solutions for the topology which already exists.
There are many situations where you might be looking for advice for selecting the best access point, or why you are experiencing dropped packets in a certain area of your business, for example. Having technicians who are familiar with your infrastructure will produce good advice and value, especially in the long term.
Onsite Techs Work with and Motivate Employees
Having a level of trust between the technicians and the staff is something many companies overlook. However, it can actually transform the landscape of your business. When you have a technician who knows everyone by name, they can take a much more active role in securing the organization.
For example, setting up multifactor authentication often requires in-house visits, and is one of the most effective ways to combat password breaches. Often times, technical work is obfuscated and we can't see the value in it. However, when the techs are in-house, all the employees can witness the changes being made. There's often a much higher level of satisfaction in working together to fix a problem.
Employees often encounter issues which don't warrant opening a ticket, but are still a real pain. Having in-house techs eliminates this barrier, and it makes it a lot easier to get problems solved.
Quicker Turnarounds and Improved Satisfaction
It's a common complaint when working with remote technicians to feel overlooked. Waiting for the ticket to get looked at, waiting for the travel time or coordinating through email, and then waiting for them to figure out your infrastructure for the first time. This can all be very impersonal, frustrating, and time consuming.
With onsite support, you get much faster response times. Often times, you can request after-hours support, or you can get in touch directly with your technician through a cell number. This makes fixing your issues a lot quicker, allowing your employees to get back to work with minimal disruption.
This all translates to much higher customer satisfaction. Having that immediate and personal support not only gets things done much quicker but also with higher quality. Each employee can be given personalized advice depending on their workflow, endpoints, level of access to the system, and more.
It Pays to Get On-Site Support
In the long run, you will not be disappointed with the money spent on onsite support. You might be inclined to opt for the remote support, especially if you operate a small medium business.
However, even SMBs nowadays can have quite sophisticated and complicated IT infrastructure. Considering how much downtime can cost, it often pays to have this higher tier level of support.
A managed services provider like Livelinx can get you set up with an onsite technician who can respond better to your questions and concerns. If you have any questions about this, don't hesitate to reach out and contact us.